Hurricane Ridge is the only alpine area on the Olympic Peninsula that is plowed and accessible in winter. It is located 18.8 miles south of where Race Street intersects Route 101 in Port Angeles.
Located in an alpine meadow at 5,250 feet, Hurricane ridge is comprised of a visitor center, a large parking lot, and a very small alpine ski area with two rope tows and an ancient poma lift.
There are several go-to zones for backcountry skiing at Hurricane . They include Hurricane Hill, Maggies/Sunrise, and Klahhane ridge.
Hurricane Hill
Hurricane Hill is accessed by a well traveled track starting at the west end of the parking lot. This tour involves a long relatively flat skin of about two miles, and then a gentle climb for three quarters of a mile from 5,120 feet to Hurricane Hill at 5,757 feet. On Hurricane hill, there are a multiple short descent options of varying steepness, typically about 500 vertical feet. On the skin in, there is a short section of SW facing side hill that should be avoided in higher avalanche or slick snow conditions by gaining the ridge to the NE.
Mid way on Hurricane Hill route, steep icy section to left, Hurricane Hill proper in background.
The summit of Hurricane Hill, with some of the steeper lines in the SE bowl visible. December 7, 2011.

Maggies/Sunrise
Maggies/Sunrise is a zone accessible from a pull out on the road about a mile before the visitor center. You will be starting your upskin at between 4,500 and 4,700 feet and reach a ridge line between 5,300 and 5,450 feet. This is fairly low angle terrain in the first half of the skin, meadowed, with occasional stands of trees. As you work your way up to the ridge, which runs SW-NE from Hurricane parking lot toward Mt Angeles, there are sections that increase in angle to perhaps 30 degrees. This a wide zone, with lines off both the SE and NW side of the ridge., with the SE lines going back to the road, and the NW lines heading toward the ski area.

Maggies/Sunrise Zone with road below, Halloween, 2010

A steeper descent off point 5,420 to the NW, terminating near base of poma lift.
Klahhane
Klahhane Ridge differs from either Hurricane Hill or Maggies/Sunrise in that it is a more advanced tour, with more vertical, more avalanche danger, and more options for skiing late in the season (June+). The tour begins at the Switchback trail head, 2.7 miles before the Hurricane ridge parking lot, at an elevation of 4,400 feet.

Foggy view of N. Side of Klahhane ridge, Mt Angeles to right, Victor pass in center

A steeper section of the S. facing approach to Victor Pass, December 8, 2013

This is an up, over, and back type tour. You start with a steep south facing climb of 1,650 vertical feet to gain Klahhane ridge at Victor pass, elevation 5,850. The trees are tight at the bottom, opening to steep meadows and a bit of scree at the top. The classic skin track follows the summer trail.
The ridge itself, sitting at roughly 6,000 feet of elevation, runs in a SW NE direction from Mt. Angeles (Elevation 6,453 feet) to Rocky Peak (6,218 feet). From the ridge, looking NE you have a stunning view of the bowl you are about to ski, the Strait of Juan de Fuca, and Mt. Baker in the distance.
View of Klahhane ridge on April 7, 2016
The most impressive skiing is on the north to northwest side of the ridge. This is all open, alpine bowl and chute type skiing. The most popular run is directly down from the saddle where the summer trail crosses. This area, known as Victor pass, has a 25-30 degree entry, then flattens out to lower angle skiing, before rolling into a steeper chute/scree field area, terminating at treeline at the 4,700 foot level.
Overview of steeper N side terrain with Victor Pass to left, May 26, 2017
There are multiple other north facing options off Klahhane ridge, mainly of the steep chute variety. One of the most prominent, which I've named "Loneman chute",  a play on words of the more famous Stoneman chute at Mt Baker, is an impressive ramp of 35-40 degree skiing, totaling perhaps 1,400 feet of vertical.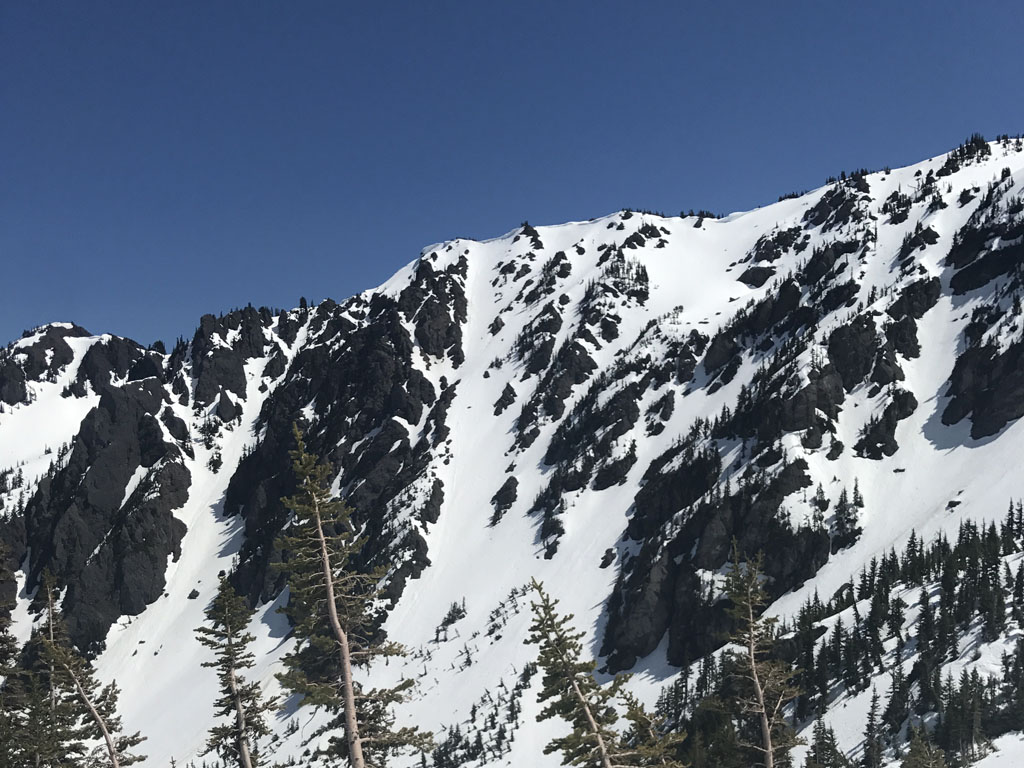 View of "Loneman" chute, May 26, 2017
The time of year and snow conditions profoundly effect this tour. It can be done during deeper pre-season events in November, in mid-winter, in spring, or as a carry-to-ski just the north side in June or early July.
In mid-winter, it is critical to pick days with stable snowpack. The south side is plenty steep to slide in multiple areas. The north side may have wind-slab,  and has a lot of overhead exposure in the lower areas.
In spring, the south side approach may be extremely firm in the AM, requiring ski or even boot crampons.